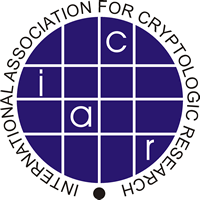 IACR 2008 Election Results
BYLAWS CHANGE
A change of the IACR Bylaws was approved to allow the evaluation of an electronic voting system
A full copy of the Bylaws reflecting the proposed changes can be found online here
ELECTION OF DIRECTORS
Six candidates stood for the three open positions of Director. The three candidates with the highest number of votes were elected. These new directors are:
Stuart Haber
Antoine Joux
Josh Benaloh
Their terms will expire on 31 December 2011.
THANKS
We thank all the candidates, whether they were successful or not, for their significant support of IACR. People such as these, who are willing to accept an office and to then give generously of their time and expertise, are vital to the smooth working of our all-volunteer community.
We wish to thank the IACR members that took the time to vote. Without their participation, the process could not succeed.
Election Committee
We declare the above information to be true and correct.

Election Committee
James Hughes (Chair)
Christian Cachin (Returning officer)
David Pointcheval
The detailed results are available here .